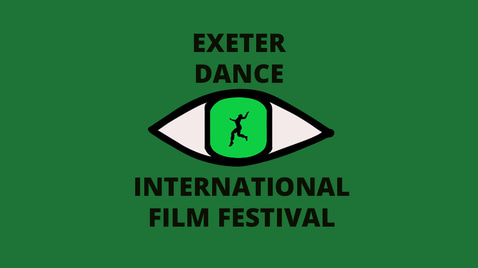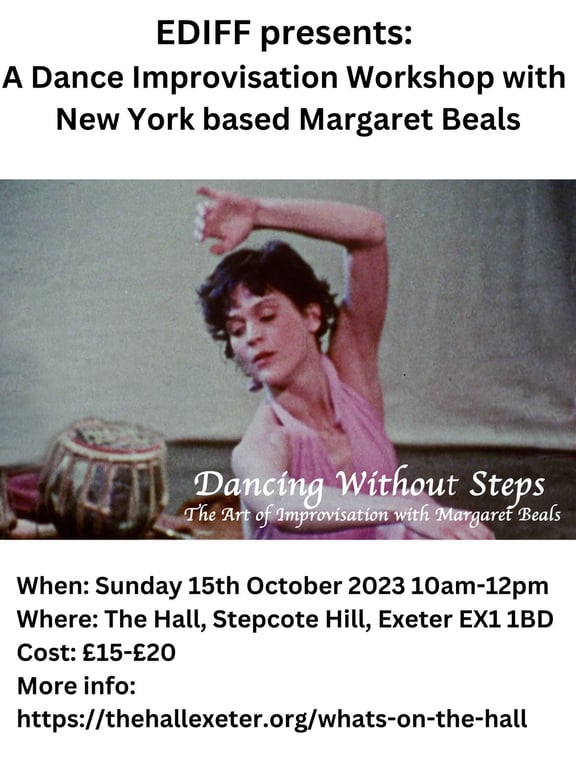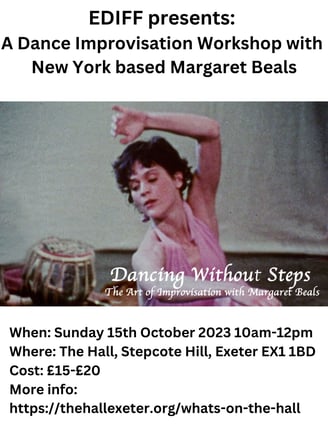 Margaret Beals Workshop 15th October 2023
Margaret Beals is in Exeter for the European Premiere of her short documentary film: 'Dancing Without Steps: The Art of Improvisation' which will screen at Exeter Dance International Film Festival on 14th October at The Hall, Exeter.
Margaret Beals is a New York based dancer, choreographer and theatrical performer. During her 50 year career, Margaret Beals has pioneered the use of improvisation in dance and theatre performance.
The workshop will begin with a showing of the film and discussion, followed by exploration and play led by Margaret, accompanied by live music.
This is an amazing opportunity for dancers in the South West to learn and be inspired by a trailblazer in Dance Improvisation.
Biography
Margaret Beals is best known for her improvisational art form in both dance and theater and has been a prominent and influential solo performer since the 1960's. Born in Boston, she trained in New York with such luminaries as Martha Graham, Jose Limon and Maggie Black. Recognizing that "the power of the present moment" in dance was what intrigued her most, Ms. Beals became a pioneer in dance improvisation. She is recognized for successfully combining movement with voice, poetry and text, to create a unique and individual art form. She is also an accomplished choreographer and writer.
Ms. Beals is the founder and Artistic Director of Impulses Dance Theatre Arts organization. At The CloudHouse Theatre in New York, she directs The Improv Group and she teaches and coaches other artists.