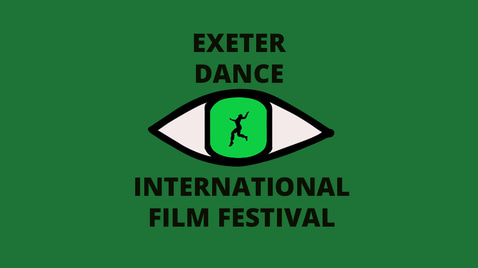 October 2023 interview with Nicole Beutler, artistic director of Nicole Beutler Projects, and the subject of the documentary Eyes Wide Open.
Hi Nicole, thanks so much for sharing your time with us. It was amazing to join your rehearsals and see how you work in Eyes Wide Open, and here at EDIFF we're hoping to delve even further into your creative process.
I am interested in how positive and hopeful you are regarding the human position in relation to climate change: you say in the film that you think we will find a way. Where does this positivity come from and how do you maintain it?
All the news we are receiving on a daily base are extremely devastating, producing fear of something terrible ahead of us. However, I am a mother, too, and I feel the necessity to use my imagination to think further. In theatre we do have the chance to look into a fictitious future, to sketch a possibility of life beyond the tipping point, as an imaginative exercise of nature catching its breath back, of a megafauna managing to endure or of a new balance that we might be able to find. Like this we move beyond the boundary of what we think is realistic and can eventually act accordingly. There are writers like Donna Haraway, she manages to propose an attitude of being aware of the mess we're in and embracing the process of change. The conditions on the planet have changed many times, living beings adapted to that, we'll have to adapt, too, and that's ok.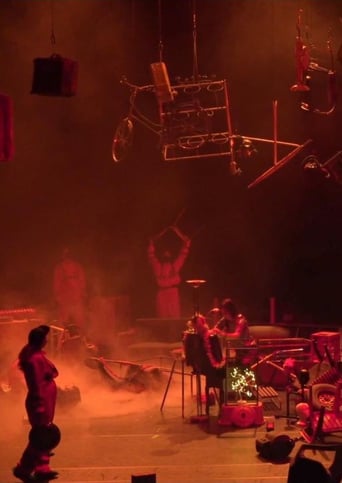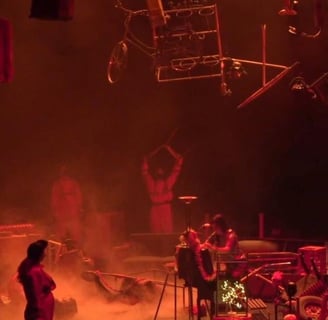 During the film the dancers talked of having a blank canvas to work with; of freedom to explore within the clear structure that you provide; and that you balance clear leadership with inviting contribution. Could you talk about this process in your choreography and directorship – how you are able to balance structure and freedom?
When we start rehearsals in the studio, a long trajectory has gone before of reading, researching, meetings with the creative team (dramaturgy, sound, stage, light, costume) and I have a clear framework that I want to engage with, as well as a general idea about staging and ingredients of the work. So I feel like I am the initiator, the guide, but then I offer exercises, themes to play with and the actual creation of the movements, of the material comes from the performers. It is a process of constant exchange, I offer a frame, they offer material, we talk, I choose to strengthen an aspect, they feedback, etc… I listen a lot to what all collaborators have to say. Their opinions and observations enrich the process. Different perspectives on what we see and experience help me in identifying which of these associations I want to enhance and which are less relevant for the work. So I cherish the exchange on an equal level and I feel like the outside eye that shapes the work, so that it communicates what we feel it needs.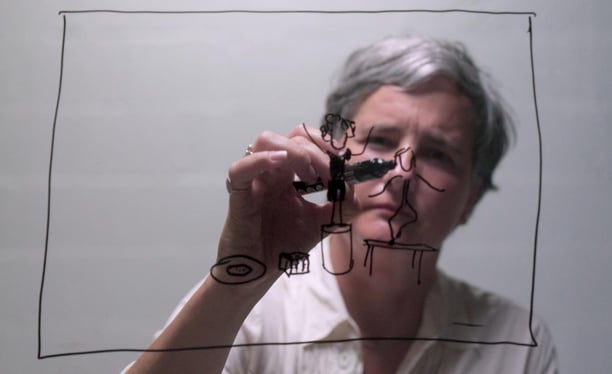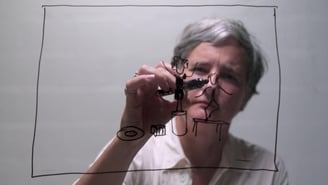 How many dancers do you work with? What kind of dancers do you like to work with? You talk about people who dare to step outside of their comfort zone and fragility – how do you find the right people?
The cast always varies and is depending on the work. Every piece has its own logic that affects the casting. There are some people that keep coming back in various projects, some dancers I work with for a very long time. I prefer to work with people that have a specific skill yet that are open to also dive into worlds they have not been trained in, ie dancers that sing, singers that dance, writers that dance, dancers that beat-box, that do spoken word, a certain adventurous spirit, a fearlessness and general curiosity in all that is art, is what attracts me to people. The rehearsal time is also our life time so a good vibe in the studio is essential for me. In the meantime there is a big pool of performers that I have worked with and that I would ask back into the studio if the project fit them, however sometimes we do organize workshops in order to find new collaborators for a specific project.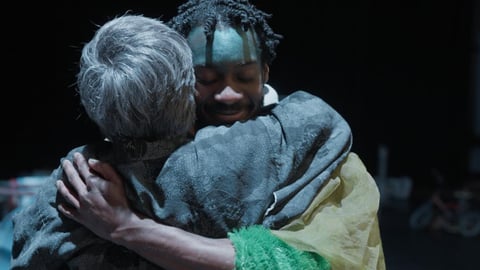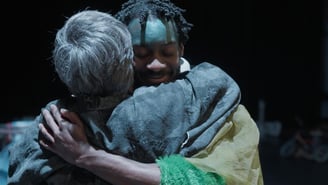 One of the ideas you were exploring in this piece was the interconnectedness between humans and their landscapes – that they were made of the same materials. You were trying to work out how to portray this on stage - how in the end did you achieve that? How do you reflect on it now that the piece is complete?
We are part of nature, everything we created is composed of ingredients from Mother Earth, yet we humans created a monster that we cannot bring to a halt, its momentum has become stronger than us. In GINKGO the main Leitmotiv is the statement that the human species is the only species that drowns in their own waste, as biologist Lynn Margulis said. So the performers spend time between discarded objects that in their turn dominate the movement of the performers and after a last ode to that which seemed so indispensable they disappear in this world of junk. I felt it necessary to give a farewell to the world as we know it, the world around material possession, constant accumulation and growth.
I love your description of the creative process as 'Going into the dark with your eyes open'. This brings to mind courage, and curiosity. How do you think it reflects on you as a person and as an artist?
In my theatre work I always do things that I haven't done before, ie a massive decor of all found household objects, that is impossible to move in, like in GINKGO. Or working with a big choir, conducting them myself, directing and choreographing an entire opera as I did recently. Or work with singers that need to learn dance moves, urban arts, puppet theatre, small and big scale works, with non-professionals or young people and on the street. Discovering new territories in theatre keeps me curious, discovering different angles of the field, a bit of fear and excitement of going 'into the dark' also holds the joy of making discoveries.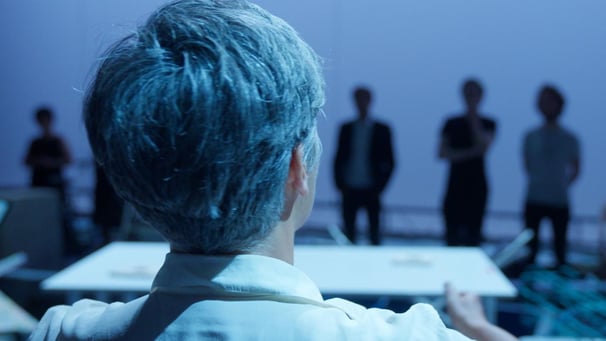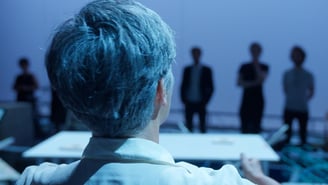 What drives you?
That is an inexplicable urge to open up new worlds, to look beyond the surface, to zoom out and think about what we are as humans. An interest, a curiosity to learn. A desire to create and see something grow that we put all our love and care in and that is ephemeral after all. I love thinking about relations between thoughts and material. About where our thoughts come from, how we can connect with others, how we can land on the earth with our thoughts.
Do you really believe that art can change the world? If so, how?
All that we create is a potential nudge for someone in the audience, in the team into a different direction. We orient ourselves on our peers, neighbours, friends in shaping what we believe in and what our norms and values are. So, I do believe that everything I put out into the world and that someone sees has a certain impact on them and the world. With poetry, strong images and the desire to talk about something that matters we can touch people so that they look at their world differently. So, yes. I have absolutely no guarantee that the audience sees what I see, but if I believe what I am telling matters, I trust, it will matter to someone else too.
Can you explain what a Gesamtkunstwerk is, and how you personally achieve it?
In my case it means the choreography and composition of all elements that make the work: action, movement, text, sound, light, costume, decor all are protagonists in the composition. None of the disciplines is leading, they all influence each other and have a voice in themselves. Like this we create visual theatre that has strong images and many layers. Since many years I flirt with opera elements and am inspired by the genre, as it brings together all disciplines, music, image and movement, however I feel a strong need to create our own language.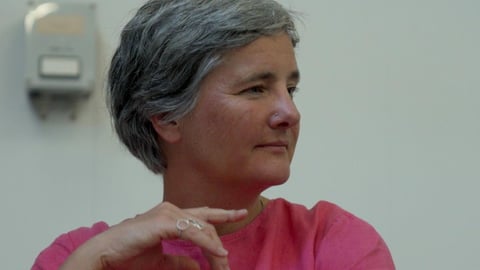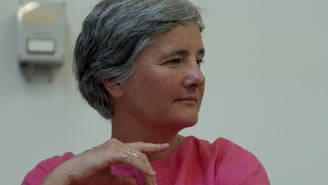 What are you working on now?
We are rehearsing for ATMEN / evolution is silently unfolding, the second part of the trilogy RITUALS OF TRANSFORMATION (of which GINKGO or: 56 million years ago there were palm trees on the North Pole was the first). The premiere takes place on the 18th October in the International Theater in Amsterdam (ITA). After that comes a tour through NL. The premise is that the theatre hall has not been visited since 170 years and is overgrown by nature. Surviving humans are dwelling in the shadows, adapted hybrids of mushrooms, animals and avatars. We create it together with my partner, DJ & Producer Gary Shepherd, with video artist Heleen Blanken, stage designer Julian Maiwald and a team of four singers and two dancers. ATMEN is a speculative fiction, a fertile place, uncannily ungraspable yet full of potential. In preparation we followed several survival trips, learning about nature, shelter building, fire, plants. The earth is in turmoil, its transformation has many dimensions existing in a complex network of cyclical temporalities. ATMEN will unfold a dimension of recuperation and incubation, where beyond "the end of the world as we know it" newly assembled species are starting to emerge among the ruins of the past. Outside of the theater space there will be a programme of encounters, video works and lectures diving deeper into our relation with the planet.
More info on nicolebeutlerprojects.nl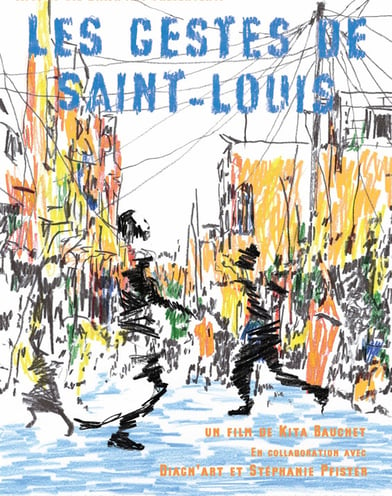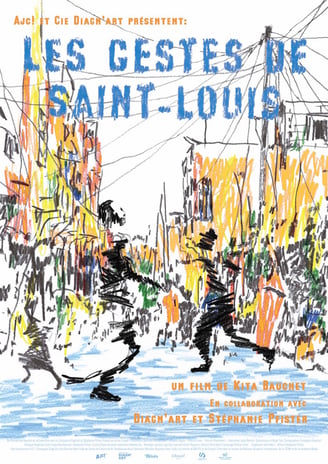 October 2022 interview with Kita Bauchet, director of Saint-Louis on the Move.
Hi Kita, here at EDIFF we all absolutely loved your wonderful film. It was nominated for Film of the Festival, and went on to win the Location, Choreography and Documentary categories.
How long have you been directing films?
I started directing with short fiction films in the 2000s. Then I worked for 15 years in television. And I directed my first feature-length documentary in 2009 La Fabrique de Panique, on the animated film "Panique au village" by Vincent Patar and Stéphane Aubier, then in 2016 Une vie contre l'oubli on the work of belgian director André Dartevelle. In 2018, I created Bains Publics, which pushes the doors of the "Bains du Centre" into the heart of the Marolles, a popular district of Brussels.The film received the France Télévisions prize for best documentary at the International Festival of Women's Films in Créteil as well as at the Brussels in Love festival, the Birgit Wallborn Prize from Docs en Goguette and a special mention from the jury at the "Signes de vie à Clermont Ferrand
What attracted you to working in film?
What I like, above all in the cinema, is the encounter. Meeting other people, other places, other lives than mine. Cinema is also a team effort, where everyone brings ideas but also their know-how. I admire the work of my collaborators.
What project(s) are you working on now?
I am working on writing a fiction.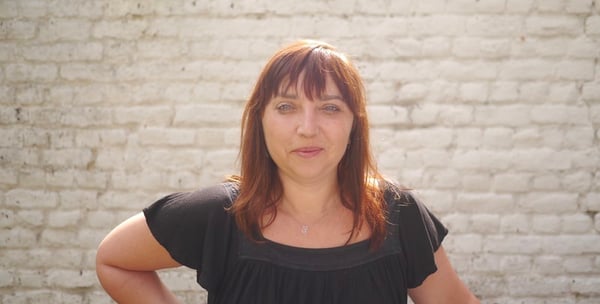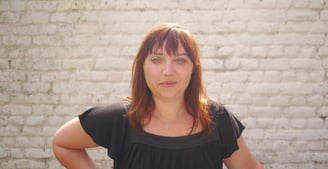 Have you made dance films before? If so, is it a particular interest for you, and if not, why did you choose to do a dance project?
My interest in dance is that of the spectator. Before going to film school, I worked as a student in a theater that showed a lot of contemporary dance. I discovered the work of the greatest, Pina Bausch, Merce Cunningham, William Forsythe, Germaine Acogny, Mats Ek... but also the young generation of choreographers of the time Régine Chopinot, Daniel Larrieu, Angelin Preljocaj... Belgium is also very famous for its contemporary dance with Anne Teresa De Keersmaeker, Sidi Larbi Cherkaoui, Ayelen Parolin, Alain Platel…
In 2003, I had the chance to work on Thierry De Mey's film "Counter Phrases" which filmed ten danced phrases by Anne Teresa De Keersmaeker performed by her company ROSAS in different gardens. I was fascinated by the work of the dancers outdoors, the relationship between the bodies and the environment: how the bodies and the movement invest the space; the places, and transform them. It is a major inspiration for "Saint-Louis on the move".
I've always been fascinated by the commitment imposed by the life of dancers. The rigor that governs their lives. And the fragile humanity that is communicated by moving bodies.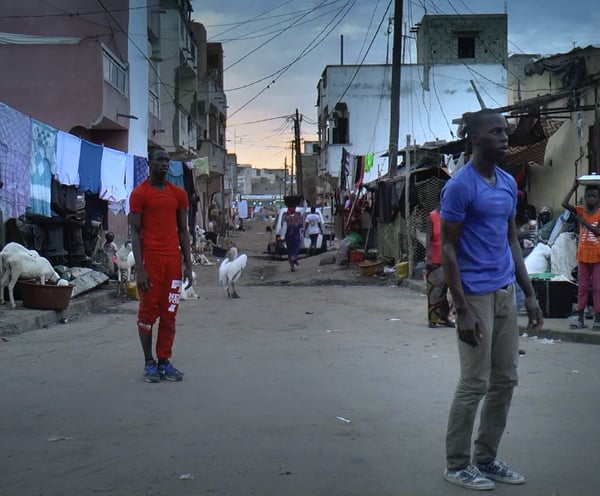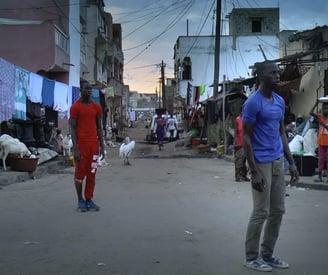 What was the inspiration for this film?
I am used to making very prepared films, with location scouting over several months, and I wanted to try my hand at a more spontaneous form with a simple device. I had just shot "Bains Publics" about life in a swimming pool in a popular district of Brussels which had taken me 2 years to complete. I wanted to continue my work on the city, on water and the body and on the other hand the desire to recharge my batteries outside Belgium where I had shot all my films until then, it remained to find the subject that brought together these two desires.
Gradually the idea of ​​filming in Saint-Louis, Senegal, came to me. For a long time, this city intrigued me, I had heard about it, not for its tourist side, its architectural colonial heritage, but more for its vitality. It hosts the famous jazz festival, the contemporary dance festival "Duo Solo Festival", the "Festival Nd'Art Urban Week" devotedo urban culture, the International Documentary Film Festival "Saint-Louis's Docs" and recently the "Dakar Contemporary Art Biennale"… What also interested me was the fragility of the city surrounded by water, wedged between river and sea, which gives it a very unique dynamic. It is now threatened by the rising waters and the widening of the artificial breach, which was opened on the Langue de Barbarie in 2003 as a junction between the river and the ocean, has already created a lot of environmental damage. Some neighborhoods have even disappeared.
How did you come to work with Compagnie Diagn'art?
I wanted to avoid the clichés forged by TV or the Internet, on a city I did not know, and to avoid the risk of projecting a stereotypical vision of "Africa" ​​and I wanted at all costs to avoid the postcard of "African Venice" to turn to the population who give it life.This is why from the beginning of the project, I looked for Saint-Louis artists with whom to collaborate. I imagined a dialogue between a Westerner who is discovering the city and its inhabitants who experience it on a daily basis. I wanted this joint work to bring out images of "Africa" ​​that I know through my travels and work and that I find little in the cinema, with a population which, of course, encounters difficulties but which above all is inventive, inspiring and fertile in ideas and projects. This is how I got in touch with Alioune Diagne, the choreographer of the contemporary dance company DIAGN'ART based in Saint-Louis and who actively contributes to its cultural life.
He created "Le Château" a cultural center on the Langue de Barbarie, where young people from the neighborhood can come and learn all types of dance, whether contemporary, traditional or urban. The Château hosts shows, rehearsals and all kinds of activities for the youth of the neighborhood. It is also an artists' residence, which gives rise to exchanges between foreign artists and Senegalese artists. Since 2008, he has also created his own dance company, Cie Diagn'art, whose shows travel across Africa and the world. And finally, he founded the Duo solo festival, which takes place every year in Saint-Louis and mainly hosts contemporary dance performances.
As the theme is the city and the daily life, Alioune Diagne immediately thought for this collaboration of one of his shows, Banlieue, which is the one that has toured the most in Africa, in more than 18 countries and in Europe. It is danced by two young dancers Roger Sarr and Jules Romain and is inspired by a particular neighborhood in the suburbs of Saint-Louis in which they grew up, just like Alioune Diagne. There was an obvious connection between this show around an urban environment and the proposal to discover the city. For the choreographies of the film, the dancers therefore drew part of the show.
It was this involvement in the city of Alioune Diagne and the dancers Roger Sarr and Jules Romain that attracted me and it was obvious to learn more about the city through its practice, its language. So I offered them an immersion in the city of Saint-Louis, where our two eyes meet, that of the director who discovers Saint-Louis while filming and that of the choreographer and the dancers who appropriate her images and transpose them into dance. A way of telling the same reality, on the one hand, fantasized and on the other, experienced. A film, where the language of the camera is completed, even contradicted, by the choreographic language which also wants to be documentary, thus escaping the simplistic representations of the city.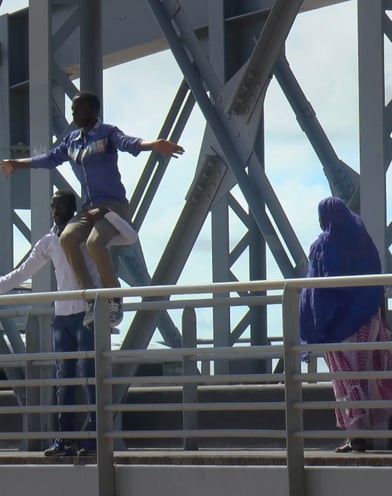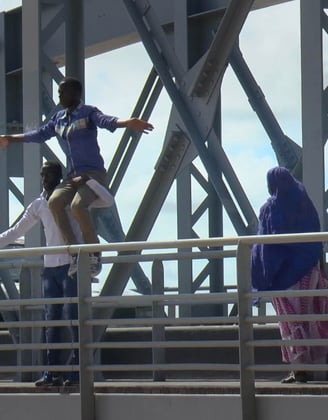 How did you choose the specific locations in Saint-Louis? Have you spent much time there? How did this come about?
I was helped by an assistant and translator in Wolof and Fulani Makhtar Ba, who works in Saint-Louis. For two weeks, we surveyed Saint-Louis, filming it in long sequence shots, attentive to the gestures, the movements that punctuate it, by the sea and the river. I especially focused on the movements of its population: as I said, I was less interested in the architecture of the city—I did not film the old colonial houses—than in the daily life of the city, with its fishermen, its fishmongers, the children at school, the sportsmen who invest the streets, the women among themselves... At the end of this exploration, I delivered this collection of images to the dancers. They had carte blanche to choose the images that inspired them and the choreographies that resulted from them, just like in the choice of their costumes. Once this work of rehearsals was completed, the dancers then performed the dances in the places filmed previously. It was their turn to show us their city, their interpretation of daily life in the neighborhoods.
What is your connection with Siegfried Canto, the composer? How did you get him involved?
For the music, the initial idea was to offer Senegalese and European composers the possibility of producing music in sequence. I had taken advice from Oumar Fall, an outstanding music programmer from Saint-Louis, so that he could introduce me to Saint-Louis and Senegalese musicians. But for budget reasons, I couldn't go through with this idea and I decided to continue my collaboration with Siegfried Canto, who did all the music for my previous films. I gave him to listen to all the music that Oumar Fall had recommended to me, not to make a pale copy of Senegalese music, but more to soak up sounds, rhythms and instruments. He then composed music for each sequence, taking care to contrast the musical interventions while creating a coherent whole. He took it as a challenge, a challenge to take up, with the idea of ​​not making cultural reappropriation but rather of translating the very numerous influences with which the dancers work. In Africa as elsewhere, since the internet and smartphones, the musical field has widened considerably; has become globalized. We feel several influences and his music for the film is like the project team: cosmopolitan! The music imagined by Siegfried Canto contributes enormously to the success of the film.


What were the challenges for you, in making Saint-Louis on the move?
The most important thing for me with this film is the meeting with Cie Diagn'art. Sharing through work. Learn from them and try to communicate their commitment, talent and vision.
With your films, are there certain themes that you find yourself returning to, and are there certain elements that you wish to convey to the audience?
My favorite themes are the city, water and the other. I try to describe our daily life, through dialogues and feelings. I try to highlight the poetry of our daily life, however banal it may seem. On the EDIFF website, I read this sentence by Pina Bausch: "I'm not interested in how people move; I'm interested in what makes them move." All things considered, that sums up exactly what I'm looking for when making films: trying to understand what makes us move.
What do you want the viewer to take away from this film?
The desire to move and explore.