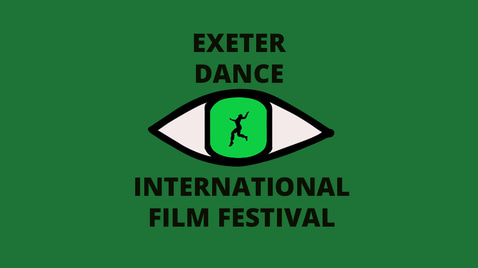 Afternoon Programme 14.10.23
12-1.30pm
Brave Steps - Wilma Casal *Best Location nominee*
The Dance Weavers – Freedom Connection - Nikki Northover
This Is Us - Luca Silvestrini, Alice Underwood *Best Location nominee*
Onus - Jo Cork
Shamanic Journey - Julian Konczak *Best Editing & Home Grown in the South West category nominee*
Earth Incantations – Ruth Bell
SHADE - Poppy Payne *Home Grown in the South West category nominee*
Alkis - Ūla Rubaževičiūtė *Best Soundtrack, Costume & Student category nominee* *Trigger warning: flashing lights*
The Weaver - Aly Rose *Best Short Short category nominee*
Shapes of Aether - Elias Benedikt Choi-Buttinger *Best Cinematography, Location, Costume & Experimental category nominee*
Uholdeak - Olatz Larunbe, Bárbara Fernández
Morning - Holly Wilder *Best Cinematography, Soundtrack, Choreography, General category & Film of the Festival nominee*
By The Sea - Edd Arnold *Best Cinematography, Soundtrack, & Short Short category nominee*
2-3.15pm
She Dreamt Alone - Nina McNeely *Best Costume, Concept, General category & Film of the Festival nominee*
Looking for loie - Tuulia Soininen *Best Soundtrack nominee*
Eyes Wide open - Floris-Jan van Luyn
Impossible image - Karen Pearlman *Best Editing, Location, Costume & Documentary category nominee*
Transparent - Siobhan Davies *Best Documentary category nominee* *contains nudity*
3.15-3.30pm
Q&A with Special Guest Siobhan Davies to discuss her film Transparent
4-5pm
Herbarium - Iwona Pasińska *Best Costume, Concept, Choreography, General category & Film of the Festival nominee*
La Solitude - Ben Sellick *Best Dancer, Soundtrack & Student category nominee*
Undercover - Omer Ben David *Best Dancer nominee* *contains nudity*
Entanglement - Nuno Alexandre Serrão
SCRUPUS - Timo Paris *Best Student category nominee*
Retrieval Loop - Thomas Ellis *Best Short Short category nominee*
Still life - Ryan Renshaw *Best Cinematography, Editing & General category nominee* *contains nudity*
5-5.15pm
AWARDS CEREMONY
Evening Programme 14.10.23
6.15-7.45pm
CORNERBOY - Kai Kurve *Best Dancer, Experimental category & Film of the Festival nominee* *drug use, violence *
ZWEET (SWEAT) – DansBlok *Best Editing, Location, Choreography & General category nominee*
SISTER - Quinn Wharton *Best Concept, Choreography & General category nominee*
Gaps in the Light - Abi Mortimer, Carrie Whitaker, Garry Crystal *Best Concept, Dancer & Choreography nominee*
Amorange - An Emotional Illusion in Orange - Nona Siepmann *Best Dancer, Soundtrack & Experimental category nominee*
**EUROPEAN PREMIERE** Dancing Without Steps: The Art of Improvisation with Margaret Beals - Adriana Davis, Margaret Beals *Best Documentary category nominee*
7.45-8pm
Q&A with Special Guests Margaret Beals & Adriana Davis to discuss their film Dancing Without Steps
8.30-10.15pm
A Butterfly Is Knocking on the Window - Mohammad Hasani
Yar (friend) - Fran Menchon *Best Cinematography, Costume & Music Video category nominee*
how to outline grief - Kym McDaniel
What's Bred in the Blood and Bone - Robin M Gee *Best Editing, Soundtrack & General category nominee*
LAYERS - Rose Sutton *Best Concept & Experimental category nominee*
ENGE - Clara Rosa Hilscher *Best Concept, Choreography & Student category nominee*
seCURE - Zoé Kugler, Jana Dünner *Best Experimental category nominee* *Trigger warning: child sexual abuse theme*
Moth - Kate Weare, Jack Flame Sorokin *Best Music Video category nominee*
Do You Believe Me Now? - Austin Jaye *Best Music Video category nominee*
Dancing with reality - Sylvain ELFASSY *Best Documentary category nominee*
ADUMU - Steve Woods *Best Documentary category nominee*
Film Synopses Evening
6.15-7.45pm
CORNERBOY - Kai Kurve
GERMANY. A bad boy gets possessed by a fly (aka the devil/death) which confronts him with his own personality. This narration is wrapped up in a fresh genre bending experimental dance film.
ZWEET (SWEAT) – DansBlok
NETHERLANDS. Millennial Eva is looking for a way to escape her daily life struggles. The nightlife might provide the anonymity she needs to finally surrender to the moment. Will she be carried away by the current of the beat? Can she disappear in the crowd without losing herself?
SISTER - Quinn Wharton
USA. A dance film exploring the perils of fitting in. We follow a young woman entering into a ritual experience to join the group she aspires to be a part of. Struggling with the experience she finds it difficult to know if she's doing the right thing or merely conforming.
Gaps in the Light - Abi Mortimer, Carrie Whitaker, Garry Crystal
UK. Jon, Claire, Mikey and Lucca are friends but do they really know each other? Stuck together, they close the door on their house for the last time; their lives interweave; small spaces become sanctuaries, cells, stages, studios, gyms and ballrooms. When you go from sharing caramel biscuits to sharing your innermost fantasies and worries something has to change or something within us changes? When the walls are crushing in and you can hear your neighbours secrets but you can't join the party or leave, what's your escape plan? Become someone new, transform your life and walk out into a brand new beginning. Gaps in the Light uses verbatim interviews and was filmed on location at The Point, Eastleigh. A light and amusing take on life that we all recognise.
Amorange - An Emotional Illusion in Orange - Nona Siepmann
GERMANY. Realities become subjective when we change our perspective. The power of illusion moves and changes spaces. What are the voices in our head and what is real?
Dancing Without Steps: The Art of Improvisation with Margaret Beals - Adriana Davis, Margaret Beals
**EUROPEAN PREMIERE** USA. "Dancing Without Steps" profiles acclaimed dance innovator Margaret Beals' 50-year exploration of improvisational performance. Among the first solo dancers in the 1960s Greenwich Village cabarets to create concerts without choreography, Ms. Beals added improvised spoken word shows to her dancing. With an insightful introduction by award-winning composer/singer/filmmaker Meredith Monk, this film offers rare footage from Ms. Beals' career demonstrating the power and authenticity of improvisation as a tool of discovery for any creative endeavor including examples of Keith Jarrett, Jackson Pollock, Martha Graham and others. This documentary inspires a new generation of performers to "meet the moment" in their work.
8.30-10.15pm
A Butterfly Is Knocking on the Window - Mohammad Hasani
IRAN. Injuries do not always manifest themselves as visible scars. It all started from a ruined house whose window glass was broken. I think that when women are harmed by their family or society, they are broken like the window glass of a house, and now this breaking can take many forms.
Yar (friend) - Fran Menchon
CANADA. Since the murder of Mahsa Amini at the hands of morality police in Iran on September 16, 2022, Iranians around the world have begun the uprising to topple the current illegitimate regime of Iran under the slogan: "Woman, Life, Freedom". Over 20,000 souls have been arrested and are held in Iranian Prisons in the most torturous and inhumane conditions. At least 516 protesters have been killed, 70 of which are children. Thousands more have been gravely injured, sexually assaulted and kidnapped and disappeared. In a fresh round of retaliation the government has now chemically attacked over 300 all girl elementary and high-schools across Iran, sending over 2000 girls to hospital with chemical poisoning and killing at least 2. And yet Iranians have not given up, clinging to their shared cause to seek change. This song is inspired by the sustained heart ache of losing so many young boys and girls in the revolution and dedicated to the empty seats left behind by the killed students in elementary, high schools and universities.
how to outline grief - Kym McDaniel
USA. Different water worlds - sea, snow, tears, bodies - collide as grief is poetically explored through movement and landscape.
What's Bred in the Blood and Bone - Robin M Gee
USA. Inspired by the work of Ida Bell Wells, whose writing documented the episodic period of lynching's in the 1890's, What's Bred in the Blood and Bone is a study of space and place, girded by the collective experiences of brown bodies. "Blood" explores "blood memory" as body memory and the ways in which our collective experiences bind and fortify us as African Americans.
LAYERS - Rose Sutton
USA. Feelings of not belonging, isolation and displacement are unfortunate foundations of the Black experience. "Layers" is a retelling of that story through dance. Our main dancer has lost their spirit, feeling unsure of themselves and their identity in the new world they've entered. When we meet them, they are on the run and are lost. They are scared of the newfound because they do not know what the land is; who it is for. Throughout the film, the dancer comes in contact with people of different identities: both in dance style and personality. Like a stranger giving a smile or a friend that comes into your life at the right time, these different people are here to guide the lost dancer to find who they are again.
ENGE - Clara Rosa Hilscher
GERMANY. The short film ENGE is about the how five female read persons conduct themselves in the world of subway stations. Where the individual reality is clashing with the unwritten rules of public spaces, the individual drifts off into the inner space - a dreamland. A convergence in the equilibrium of inhaling and exhaling. Searching to let go into the nature of things. An unsophisticatedness and sensitivity of the moment, an experience of shared intimacy.
seCURE - Zoé Kugler, Jana Dünner
SWITZERLAND. In the powerful short film "seCURE" sexual violence and its aftermath are explored through the captivating perspectives of four survivors. Through expressive dance and poetry, their inner world is unveiled, depicting their search for safety. As they navigate a seemingly comforting yet lifeless environment, the key held between their fingers becomes a guiding symbol. Ultimately, the film conveys the profound journey towards finding safety within their own bodies.
Moth - Kate Weare, Jack Flame Sorokin
USA. Moth explores female desire in a darkened space of imagination using a single light source: a lantern. The film complicates ideas of sexual objectification, regret, and loss by tracing the flux of whose feelings matter most in the act of coupling. Longing permeates Nicole Vaughan-Diaz's rendition of "Don't Let Me Be Misunderstood," originally written by Horace Ott as an apology to his girlfriend for his own bad behavior, and subsequently made famous by Nina Simone's iconic interpretation.
Do You Believe Me Now? - Austin Jaye
USA. A music video for 'Do You Believe Me Now?' by Kleinahexa.
Dancing with reality - Sylvain ELFASSY
FRANCE. At 14 years old, Karim breaks rules and crosses borders to make his dream come true: become a professional dancer. After a long journey, he settles in Paris and progressively makes his marks, despites facing difficulties as an isolated minor and migrant.
ADUMU - Steve Woods
IRELAND. Maasai Dance comes to the Stage. An African Choreographer Fernando Anuang'A creates a dance show drawing on contemporary dance and Maasai tradition. In Adumu we watch Anuang'A on a journey to realise his dream. The Maasai are willing to help but Kenyan society is slow to appreciate what he's doing and then there is Covid. 'ADUMU' Is the Maasai word for 'Jump Up and Down'.
Film Synopses Afternoon
12-1.30pm
Brave Steps - Wilma Casal
USA. "The park is desolate, the lake filthy. No sound of joy is to be heard. Optimistic and determined to put an end to the gloom, Duckfoot leaves his pond and sets off. But the gloom soon infects him. He meets friendly gestures with scepticism and the lines "it's in your hand" tempt him to take a hopeless step. Courage has left him. But from a distance he realizes: every deed can have a great effect. He sees his chance to change the world, to gradually transform it into a sunny place."
The Dance Weavers – Freedom Connection - Nikki Northover
UK. The Dance Weavers films were made in collaboration with former Bridport Youth Dance dancer and emerging cinematographer Elliot Millson. Freedom/ Connection was selected to represent South West England at U - Dance - a celebration of youth dance across the UK. It was short listed to be a part of the U Dance national festival and was screened at selected cinemas, including a premiere at The British Film Institute. The Dance Weaver films together with site specific performances in the local landscape - Choreography Geography - are now integral to Bridport Youth Dance's change of direction and future vision.
This Is Us - Luca Silvestrini, Alice Underwood
UK. Part of Luca Silvestrini's Protein's Real Life, Real Dance participation programme, This is Us was created with young people at an alternative provision school over a three-week intensive creation period. The film is influenced by Border Tales and investigates identity and how digital communication and the current rules about social distancing have affected our sense of self and the space and people around us. This is Us was created as part of JOIN THE DOCKS and supported by the Royal Docks Team. It was filmed at The Silver Building, The Crystal Gardens, Royal Victoria Dock Bridge and other locations in the Royal Docks, London Borough of Newham in May 2021.
Onus - Jo Cork
UK. Onus explores what it is to be a person of multiple cultural identities. The work follows a woman as she finds ground between her Indian heritage and her experience growing up as a Western citizen - as she discovers who she is, and who she can can become, in a globalised world. Reflecting the choreographer's lived experience, the work uses non-traditional interpretations of classical forms of dance and music.
Shamanic Journey - Julian Konczak
UK. Shamanic Journey is a collaboration between filmmaker Julian Konczak and choreographer Sapphire Sumpter. The film incorporates ancient sites and the wildness of the West Penwith landscape with a choreographed dance sequence unfolding across underground caves and wide-open heaths. The camera remains static, allowing the performance to portray transitions into the archetypal spaces of shamanic journeying - the upper world and lower worlds of compassionate spirits that reveal elements of the soul to the self. The film draws on a distinct visual style that evokes the existence of the soul within multiple worlds and the magical properties of the elements.
Earth Incantations – Ruth Bell
UK. Inspired by the Earth Spells exhibition at RAMM, Exeter, this film was made on Dartmoor by members of the South West Dance Hub, exploring landscape, ritual and magic. With support from RAMM, Exeter City Council & Arts Council England.
SHADE - Poppy Payne
UK. Led by improvised scores for body and camera, this short experimental dance film explores the textures of the skin and the forest: choreographically, aurally and cinematically.
Alkis - Ūla Rubaževičiūtė
UK. Alkis is an experimental short film that focuses on the emotional journey a person goes through when trying to understand what it means to feel alienated from their own cultural heritage and find their path back to it. Alkis shows us various traditional Lithuanian music, dance, and folklore and sees how infusing contemporary queer versions of those art forms can bring a deeper understanding of how queerness and tradition can intersect.
The Weaver - Aly Rose
CHINA. When a weaver reminisces about his former joy, the strands come to life. This dance for camera was made at Naera in Jiangxi, China.
Shapes of Aether - Elias Benedikt Choi-Buttinger
AUSTRIA. In the primeval Icelandic landscape, a dancers body translates the raw forces of the elements. As consciousness shapes physical form, the film explores the transformative force of aether and its togetherness with what we call nature, inviting audiences to reflect on their primal connection with the energy of their surrounding, and beyond the matrix of their own mind.
Uholdeak - Olatz Larunbe, Bárbara Fernández
SPAIN. When the forces of nature become present in a virulent way, very deep emotions and feelings emerge in our lives. Water can be our source of life as well as our source of devastation and ruin. It ravages your home and carries away your memories.
Morning - Holly Wilder
USA. "Morning" is a dance film dedicated to those we've lost to the Covid-19 pandemic. Produced by award winning dance filmmaking duo, Wilder Project, the film honors the grief that has accompanied us through this period. In an exploration of aliveness, transition, and catharsis, the dancers claw through different textures of earth and water with a sense of reverence and surrender. Set to a reimagining of the traditional Appalachian spiritual, "Bright Morning Stars", "Morning" reminds us of the beauty of the sand under our feet and the breath in our lungs, and asks its viewers to consider that our collective reflection inspire us to create a world where we all can live.
By The Sea - Edd Arnold
UK. In short film By the Sea, choreographer Edd Arnold explores the relationship between humans and the ocean through dance – an ode to the majesty of our waters, and our responsibility to protect them. Set to violinist Anna Phoebe's hymn to the sea, featuring the ethereal Trans Voices choir, two dancers intertwine at the water's edge, tumbling across the sand towards the waves. Turning and weaving through one another and the water, the dancers are transformed to become a part of the swell. With the dancers positioned at the center of this force of nature – costumed in recycled ocean plastics – By the Sea offers a poignant statement of a fragile future that's ours to secure.
2-3.15pm
She Dreamt Alone - Nina McNeely
USA. A short story expressed through the art of dance about a young outcast who, From childhood's hour had not been As others were- had not seen As others saw- could not love From a common spring Could not awaken Her heart to joy with the same tone And all that she dreamt… She Dreamt alone
Looking for loie - Tuulia Soininen
FINLAND. Looking For Loïe is a feminist dance film in which a woman comes face to face with inequality in the work place. The film is inspired by dance and theatre technology pioneer Loïe Fuller. It is created by all woman and non-binary makers.
Eyes Wide open - Floris-Jan van Luyn
NETHERLANDS. In an ongoing series of theatre productions, Nicole Beutler explores how humans are inflicting irreversible damage on planet earth. What does our future look like? Her plays envision the necessary transformation of the position of humans on earth: the end of the Anthropocene takes centre stage. She describes this process as "going into the dark with your eyes wide open". Beutler combines a strong artistic vision with room for joint decision-making. By inviting her team to bring their own visions to the table, she creates a collective work of art while challenging traditional conceptions of leadership. Eyes Wide Open is part of Ammodo Docs, a series of short documentaries about original minds in arts and science.
Impossible image - Karen Pearlman
AUSTRALIA. Impossible Image remixes the anarchy and gender play of women of the 1920s, with the fury, irony, and sly humour of dancing women in the 2020s. Cutting together contemporary action and archival footage creates a montage of rage, hilarity and feminist protest echoing across 100 years. Inspired by the vibrant energy of the silent film era comediennes, and their rampaging disregard for order and expectations, this project combines archival footage and contemporary dance sequences to draw parallels between subversive forms of protest from our great-grandmothers to ourselves. The past and the present coming together to challenge gender performance and shake down the patriarchy, while dancing in the streets.
Transparent - Siobhan Davies
UK. TRANSPARENT is a gentle manifesto and a visionary work of art itself. At the heart of this experimental documentary are the reflections of dancer and choreographer Siobhan Davies as she unravels the complex processes that underpin a life's work in dance. At the same time she looks far beyond herself, touching upon the histories of movement embedded in each of us, allowing the watcher to enter a descriptive world and feel the weight of their own body walking or turning or falling. The images in the film echo Davies' thoughts, showing the physical fluidity and depth of movement between all things. Many of these things are from the art world - from ancient sculpture through modern artworks and personal photos. The art is seen to be both felt and material, then transformed by the dancer into something they can hold and use.
4-5pm
Herbarium - Iwona Pasińska
POLAND. Herbarium is a fairy-tale episode, told with tenderness, gushing with the intense colours of flowers and élan vital. Choreography composed to a suite by Edward Grieg and presented by the artists-dancers of the Polish Dance Theatre takes the audience into the world of flora. It allows us to explore a day in the life of a plant from the moment it blooms to the end, drowned in warm nostalgia. We invite you to immerse yourself in the beautiful world of flowers and leaves, in the greens, reds and purples transitioning to the greys and browns of the autumn.
La Solitude - Ben Sellick
CANADA. Small and big feelings about putting in a day's work.
Undercover - Omer Ben David
BELGIUM. A character lives alone in a suburban village surrounded by plants, treating them as if they were their children. One sunny afternoon, while cultivating the in-house wild garden, a sudden discovery breaks the daily routine: a forgotten piano covered by wild plants. While the music plays 'Vincent', a calming lullaby song, slowly, an exploring dance starts in the space they live in. The character escapes the inner space and goes outdoors. There, they discover a swimming pool and are drawn into the water. Stripping off their clothes, shedding years of loneliness, with a halo glowing in the dark as if the moon goes down to the earth.
Entanglement - Nuno Alexandre Serrão
PORTUGAL. Quantum entangled particles are forever linked, no matter their distance in spacetime. Some of us are connected in these mysterious ways. Like the elusive realm of physics, love often presents itself as deciphered, only to unfold a new universe when a new theory is encountered. This experimental short film tells a non-dialogue story about a relationship.
SCRUPUS - Timo Paris
SWITZERLAND. SCRUPUS is based on an interdisciplinary research. In it I conduct artistic and technical methodological research and investigate the possibilities of interaction between dance, film and architecture. In their encounter I search for the conditions and possibilities of mutual effects on each other with the aim of creating illusory effects of weightlessness and disorientation. In the experiment, new possibilities for temporality, scale, body-space relationship, and sequencing of movement emerge.
Retrieval Loop - Thomas Ellis
UK. A retrieval courtship in suspended animation. Through movement, the film dissects feelings of anger, separation, courtship and reunification.The two male characters perform a dance of rejection, wooing, lust and tenderness; even pushing the boundaries of gravity itself.
Still life - Ryan Renshaw
AUSTRALIA. Still Life is a triptych of three films inspired by the stage version. The films are the result of a 12-month COVID-enforced collaboration between Australasian Dance Collective and Kiosk Film. Duration of each film is 5 minutes with total run time of all three films: 15 minutes. 1. Interitus 2. Tabeo 3. Vanita